Subscribe to our newsletter and receive a selection of cool articles every weeks
On Kato's pottery at JAPAN TRADITIONAL CRAFTS AOYAMA SQUARE
I went JAPAN TRADITIONAL CRAFTS AOYAMA SQUARE* in Tokyo last week. 
東京の青山一丁目から5分ぐらいの、伝統工芸 青山スクエアに行ってきました‼️ 半蔵門線で渋谷よりほど近くの便利な場所にあって、皇居前で緑あふれる雰囲気。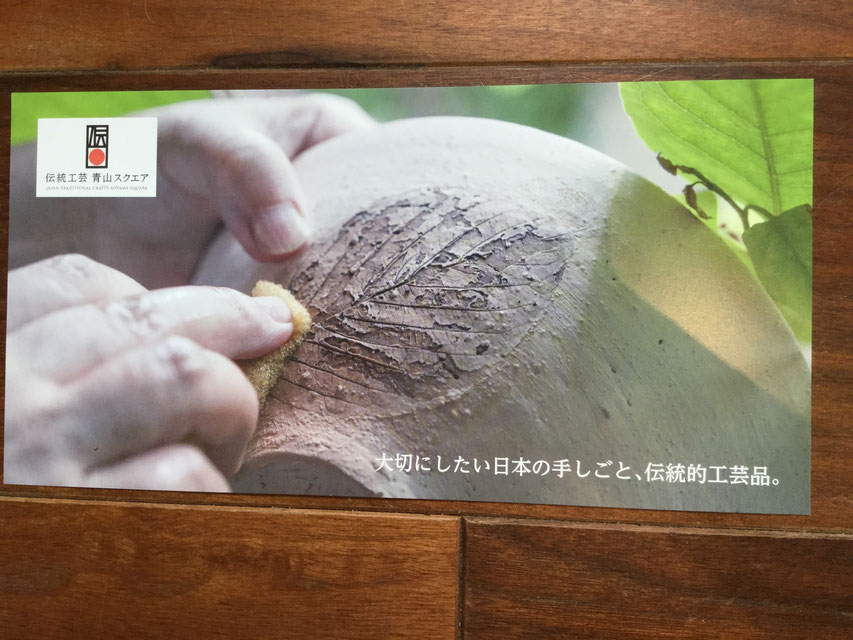 JAPAN TRADITIONAL CRAFTS AOYAMA SQUARE exhibits and sells over a hundred kinds of selective traditional crafts such as ceramics, lacquered wares, woven textiles. 
全国津々浦々の日本の伝統工芸が一挙に見られます。場所といい、非営利団体ならではの贅沢さ。陶器の展示も多く、陶磁器もかなり扱っています。
There is pottery, from different parts of Japan. Good quality claft (pottery, glass ware, wooden craft) was sold. The price was reasonable. This traditional crafts showroom run by The Association recognized by the Ministry of Economy.
At this  showroom On Kato's Exhibition was held. On Kato was qualified as the Mino ware, traditional craftsperson in 2009.
わたしが行ったときは、美濃焼の加藤音さんの展示をやっていました。葉脈やレンコンの模様、酸化の白雪釉の作品が素敵でした。
She is famous for using real leaf to make pottery(see the picture). She make pottery by thinking about forest-right, wind, smell in nature. She want to make pottery lifting someone up like music. 
近くには、イサム・ノグチの石庭が見られる草月会館や、ドイツ料理の美味しいドイツ大使館もあって、お散歩にもおすすめです。
At this exhibition, the pottery having pattern of Lotus root and the pottery glazed like water by On Kato ware amaging. (please check On Kato's blog!) 
Your Email Address Will Not Be Published. Required Fields Are Marked *