About us
APPLE POTTERY JAPAN open in 2015. Specializing in Japanese pottery created by Japanese potter.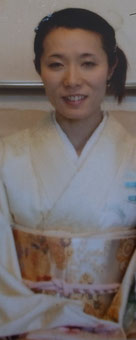 Fascinated by traditional crafts and art
When I was raising my young son, I wanted to open this shop from the experience. I grew up seeing my mother stabbing Japanese embroidery on her kimono and belt from an early age, and had a strong interest in Japanese traditional culture and art. As a university and member of society, I enjoyed art-rich movies, museums and temple lagoons, music and ornamental viewing and travel.
When children are young, they realize the wonderfulness of handmade tableware
The days when I have been married and my son has not been with my baby for 24 hours. The life that I have been able to do is not possible. Of course, I am blessed with the support around me and I do not have any time outside, but my home life has become the center of my life more than ever.
Pursue beauty with limited space and budget
And in a limited budget and space, I tried to increase the beauty and satisfaction of what I saw in my house, such as my house and furniture.
Beauty for 『 sticking to the beauty of everyday products 』
I also learned the idea that 『 is a familiar art item that I enjoy and enjoy with my eyes when I went to the Japanese theater opened by Soetsu Yanagi. In a limited-sized house, there weren't many places to decorate pure ornaments with no use, so the idea of pursuing the beauty of things with daily necessities and other uses was perfect for me.
Tableware for babies and families
Just homes and furniture can't be bought once, sometimes expensive. I enjoyed using my favorite tableware 4 to 5 times daily with the inclusion of snacks and tea. It's also great to have tableware for the whole family.
Everyone wants healing from beauty!
Now, art exhibitions are more popular than before. Even in the art exhibition, many Guts such as key chains and backs with the motif of art exhibition paintings are also sold. In life, many people have a common desire to spend the beautiful things they like.
陶器市の素敵な食器をみなさまへ
益子の陶器市に行くようになり、機械づくりの陶器にはない手づくりの陶器のあたたかみや素晴らしさを感じるにつれ、もっと多くの人にこの喜びを届けたい、素晴らしさを知ってもらいたいと思いました。
作家さんと、みなさんをつなげるサイトを目指して
陶器市や個展ににわざわざ足を運ばなければ、多くの陶器を購入することが難しいという現状は、陶器を作っている作家さんにとってもお客様にとってももったいないように感じました。そこで、作家さんとお客様をつなぐ、かけ橋になりたいということで、当ショップを立ち上げました。
素敵な作家さん、陶器の選び方、日本美術を、ご紹介!
素敵な作家さんの情報や、陶器の選び方、陶器にも大きな影響を与えている日本の伝統美術などを、ご紹介していきたいと思います!