I went to Mashiko Pottery Market in the fall of 2022. It seems that the Mashiko Pottery Market was not held in Corona. Mashiko Pottery Market will be held again in the spring of 2022, after a period of absence.
Are there new artists? Have some artists changed their style? Here again, we would like to introduce you to some of the outstanding artists and their works that we have met in Mashiko.
2022年の秋の益子の陶器市に行ってきました。コロナで、益子陶器市は、開催されない期間も長かったようです。期間をおいての2022春に引き続いての開催です。
新たな作家さんも、登場? 作風が変わった作家さんもいる? 今回も、益子で出会った、素敵な作家さんと器を紹介します。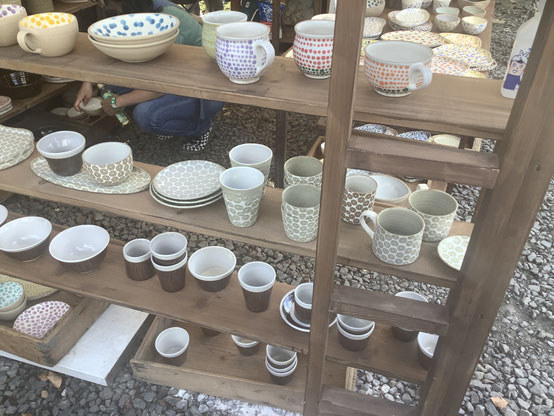 綺麗な色と、印象的な模様が、目をひきます。
コーディネートもしやすそうで、テーブルがさりげなく明るくなるような器です。
 The beautiful colors and striking patterns are eye-catching.
 It seems to be easy to coordinate, and is the kind of vessel that casually brightens up the table.
『たらり』と垂れる、透明の釉薬がツボでした。
釉薬の透明感を楽しめる、このデザインを取り入れている作家さんは多いですけど、自然&偶然の美ってやはり、心を打ちますね。
透明感あるグリーンも、ブルーも、ミルキーな白も、ホント美しいです。
 I liked the transparent glaze that drips down.Many artists use this design to enjoy the transparency of the glaze,
The beauty of nature and coincidence is very impressive.The transparent green, blue, and milky white are wonderful.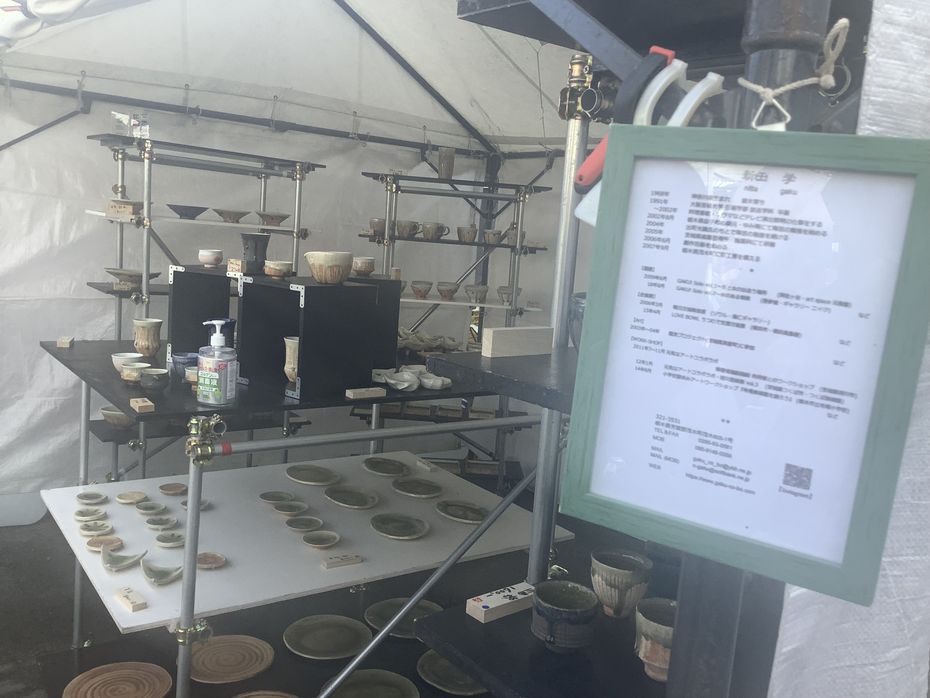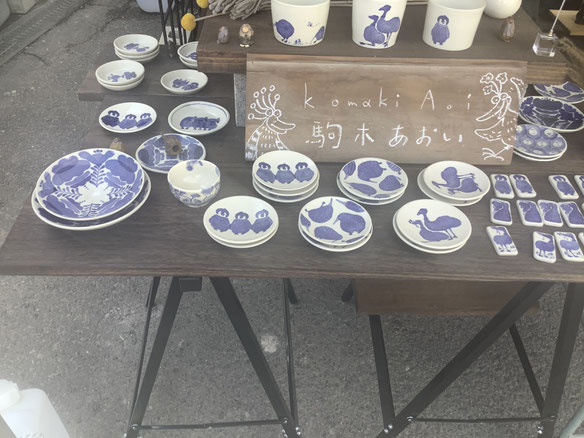 ユーモラスかつ、デザイン性の高い、動物たちに一目惚れしました!思わず、豆皿を購入してしまいました。
I love these humorous and well-designed animals at first sight! I bought small plates.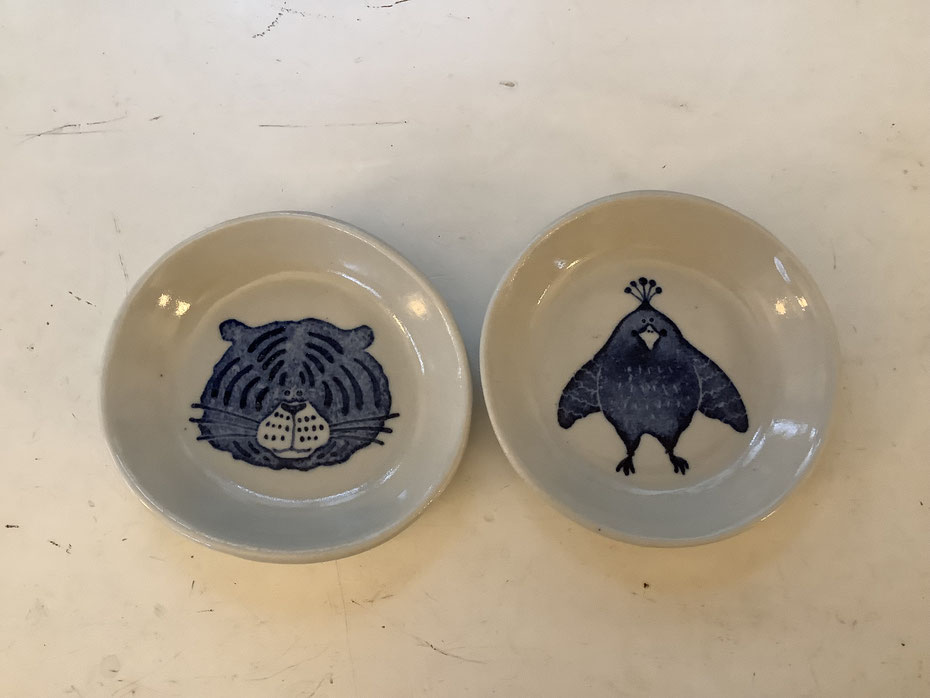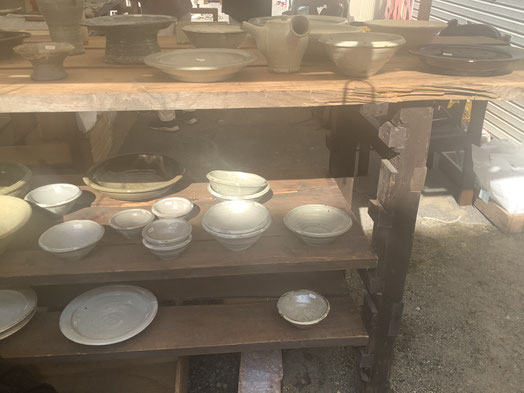 ミルキーな白が印象敵な、粉引きの、優しい風合いの器です。細部の形のデザインに、手作りのこだわりが感じられます。模様がないからこそ、形と色ででシンプルに、魅せる器。
The milky white color of this bowl is impressive and hostile, and the powder-coated finish gives it a gentle texture.
 The shape's detailed design shows the handmade work's attention to detail.
Because there is no pattern, the shape, and color are simple and appealing.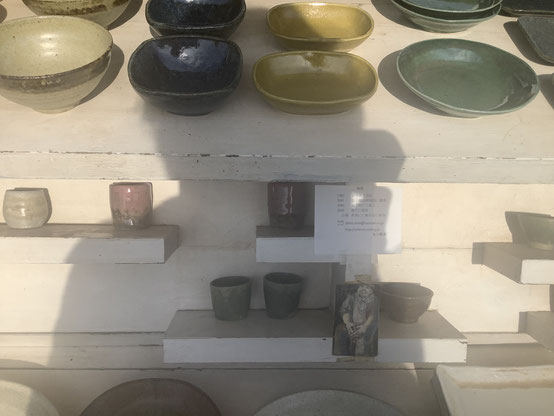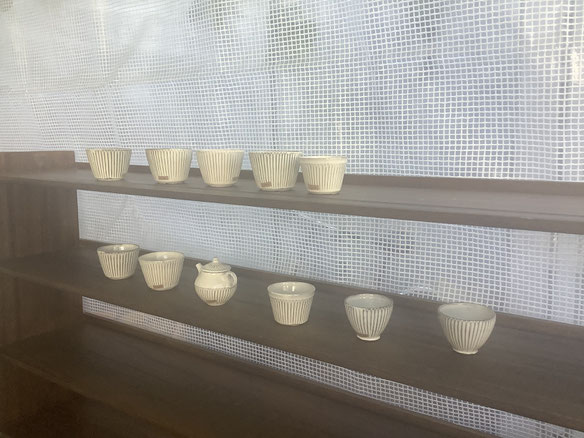 益子らしい粉引きの作品です。優しいホワイトの完成度の高い粉引きが目を引きます。
食器以外にも、素敵な花瓶や花器も、作られています。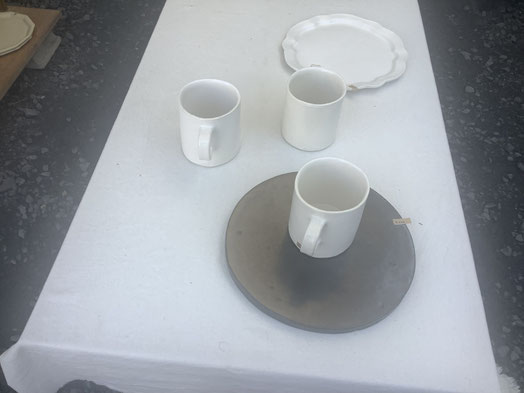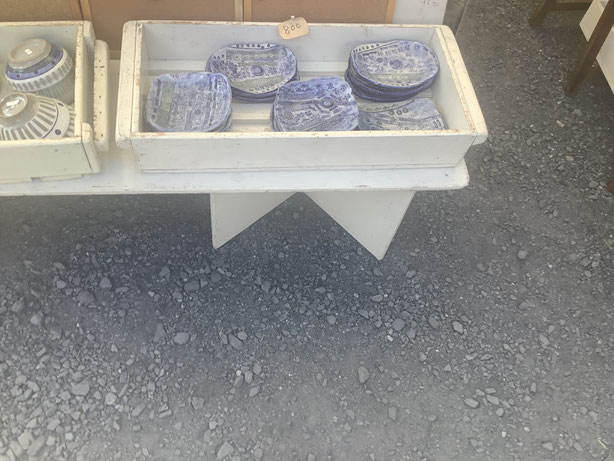 美しい青に、独特の模様がとてもかっこいいです。
 青い器は、食べ物を引き立ててくれますし、どんな食べ物も美しく彩ってくれそうです。
The beautiful blue color and unique pattern are very cool.
The blue bowls will complement the food and will beautifully color any food.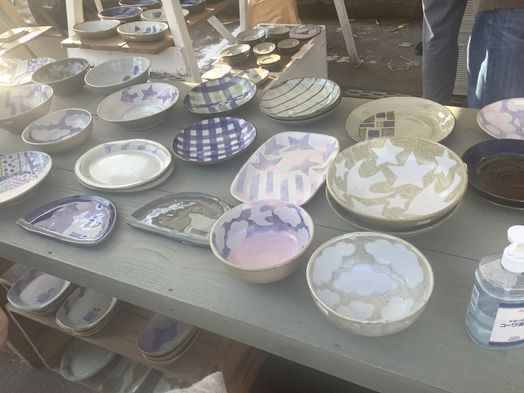 ピンクと紺の配色が印象的で、どことなくロックな印象を受けます。
The pink and navy blue color scheme is striking and somewhat rock 'n' roll.
桜井ケンイチ さん  Kenichi Sakurai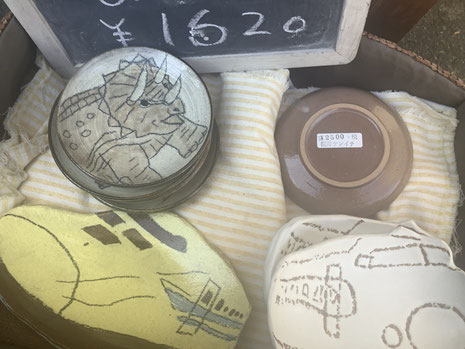 鮮やかなレモン色の新幹線や、恐竜の絵が、素敵です。
 The bright lemon-colored bullet train and the dinosaurs are a nice touch.
下永久美子 さん Shimonaga Kumiko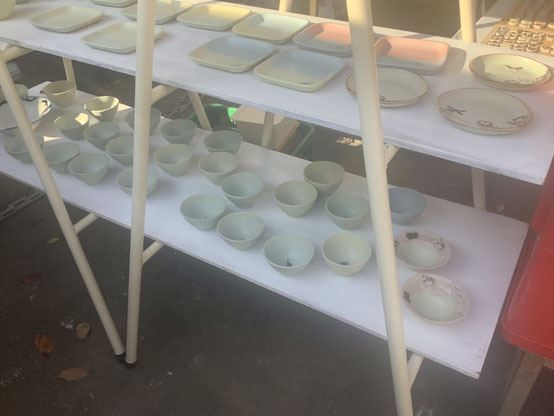 美しいパステルカラーの器に、可愛らしい動物たちが描かれています。
The beautiful pastel-colored vessels are decorated with cute animals.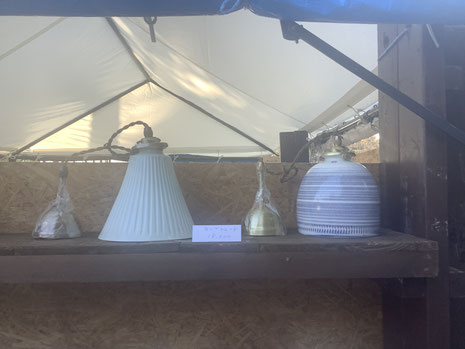 花器なども作っていらっしゃる、いつも気になる素敵な人気の作家様なのですが
お名前がわからず。。ご存知の方、メッセージをいただけるとありがたいです。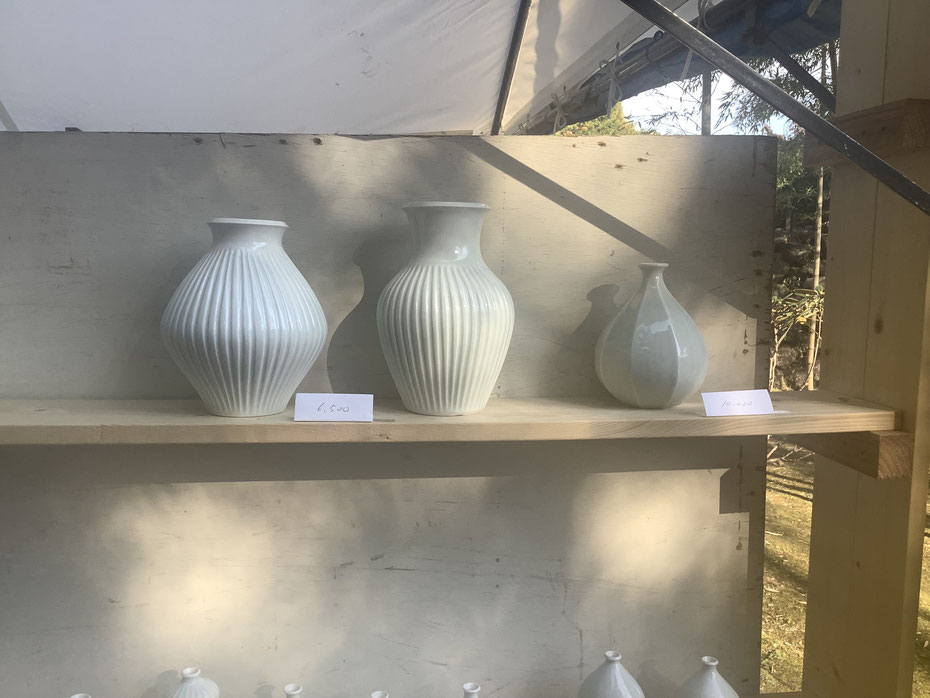 原村俊之 さん Haramura Toshiyuki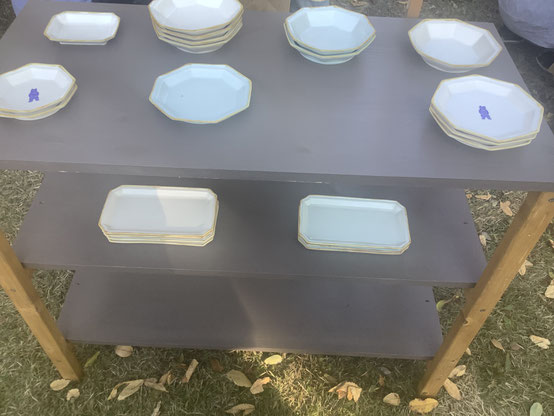 紺色の動物と茶色の縁取りが素敵な人気の作家さんです。
This popular artist has nice dark blue animals and brown borders.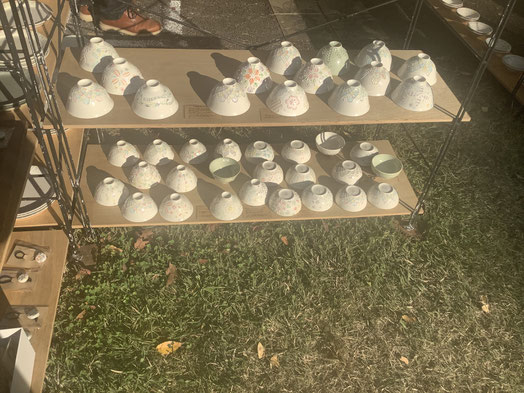 綺麗なパステルカラーの粒々が圧倒的な存在感を放ちます。
白米を食べると、糖類の摂取で幸せを感じますが、こんな器で白米を食べたらなおさら幸せを感じそうですね。
The beautiful pastel-colored grains have an overwhelming presence.
When we eat white rice, we feel happy from the sugar intake, but we would feel even more pleased if we ate white rice in such a bowl.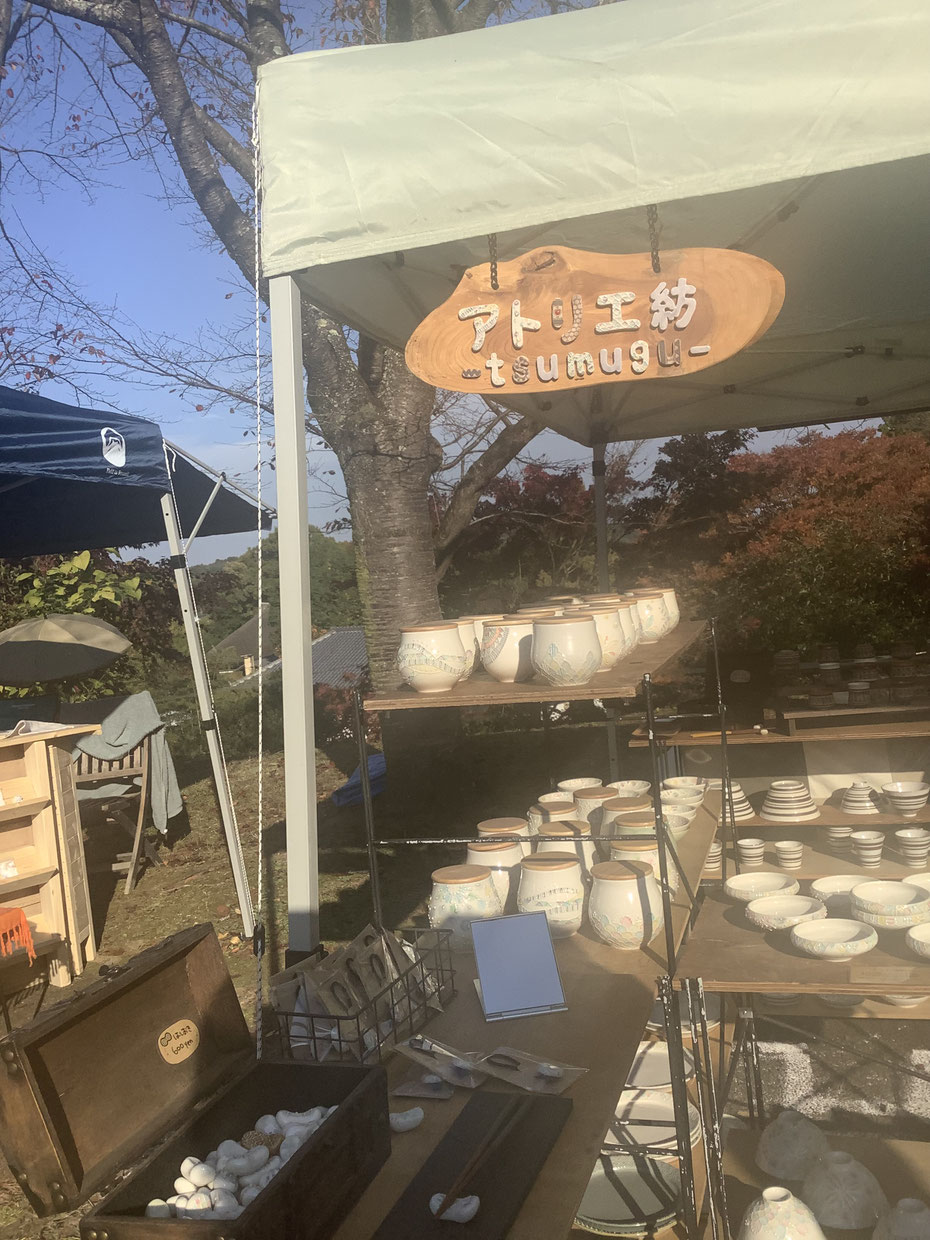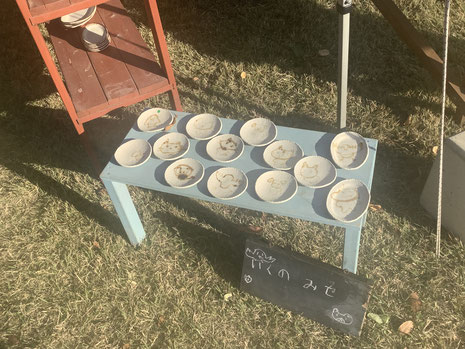 いくのみせという看板がありますが、お名前がわからず。。ご存知の方、メッセージをいただけるとありがたいです。
茶色で、ささっと描かれた動物の絵が素敵ですね。
茶色の器に浮き上がった動物が素敵です。店内混み合っていました! 
The animals floating in the brown vessel are lovely.
やまぐちあさこさん Asako Yamaguchi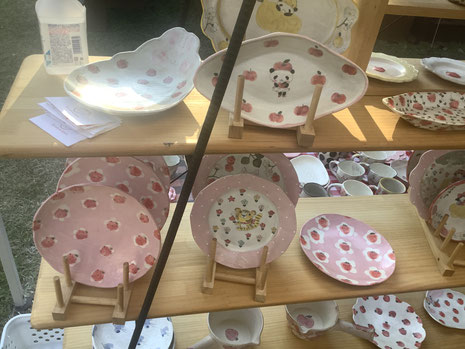 最後に、個人的にとっても好きな作家さんをご紹介。
 中国のかたが何人もいらっしゃっていて大量買いしていらっしゃいました。もちろん日本人にも大人気なようでした。
 可愛いすぎる器ですね、特に苺が個人的にツボでした。たまに水色の入った器もあって、ピンク&赤&水色は、暖色系が多い食べ物にも映えそうですよね。
 これでお食事したら、本当に幸せですよね。たくさんシリーズで揃えたいですね。
Lastly, I would like to introduce some of my favorite artists.
 There were several Chinese visitors who bought a large number of pieces. Of course, it was very popular among Japanese as well.
 The strawberries, in particular, were my personal favorite. Sometimes there are light blue colored dishes, and pink, red, and light blue would look good with warm colored food.
 I would be delighted to dine with these. I would love to have many of these in a series.