Subscribe to our newsletter and receive a selection of cool articles every weeks
2019春!益子陶器市で出会った素敵な作家さん♪ mashiko pottery festival in Spring in 2019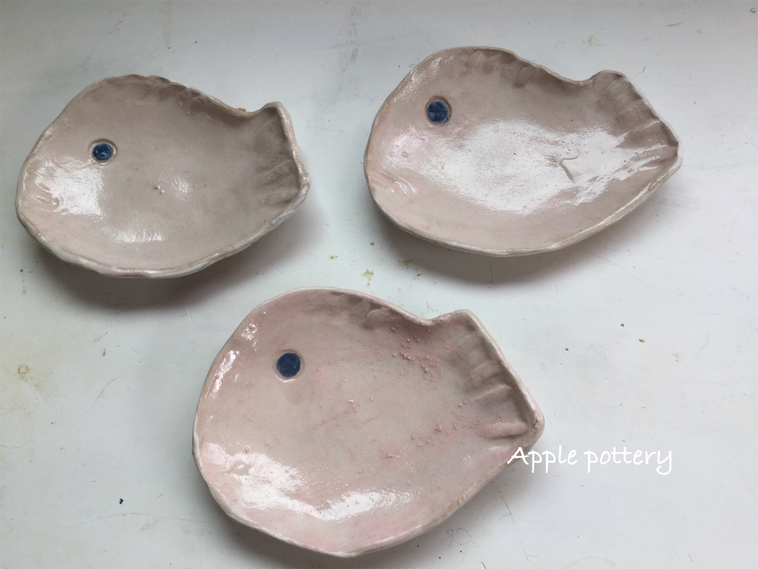 I went to the spring 2019 pottery market in Mashiko! I had just been there in the fall. It was fun to see how the styles of my favorite artists changed little by little.

Here are some of the incredible artists we met at the pottery fair, including the latest works of our favorite artists and some new ones we learned about.
2019年春の益子の陶器市に行ってきました! 秋にも行ったばかりだったので、今回は少しリラックスした気持ちでじっくりと見てきました♪ 
お気に入りの作家さんの作風も少しずつ変わるのも、楽しかったです。
お気に入りの作家さんの最新作から新しく知った作家さんまで、陶器市で出会った素敵な作家さんの作品をご紹介します。
【会場place:夢HIROBA】
堀水達雄さん Tatuo Horiuchi
The colors and shapes of Tatsuo Horimizu's work are lovely! The pale pale pink and primitive shapes are very attractive!
色も形も、可愛い、堀水達雄さんの作品! 淡いペールピンクや、プリミティブな形が魅力的。
【会場place:くみあい広場】
井川絢子さん AYAKO IGAWA
 Cute, elegant, and delicate, Ayako Igawa's work catches the eye at first glance! 

It has a traditional Japanese taste, and at the same time, it has a cool look.

The outside of the edge has a pretty pattern, so it will look gorgeous when you put side dishes in it.
一目で目を引く、可愛い・上品・繊細な、井川絢子さんの作品! 伝統的な日本のテイストを持ちつつ、かっこよさも持ち合わせています。淵の外側に、可憐な絵柄が入っているので、おかずを入れたときに、とっても華やかなに映えそうです♪ 薄く軽く使いやすそうです。
【会場place:見目陶苑KENMOKU】
堀中由美子さん HORINAKA YUMIKO
ノスタルジックな雰囲気の淡い色が、印象的。 ふちどりがレース柄になっていたり、うすい作りで、細部もしっかりとつくりこんであります!
 Her works are Nostalgic and beautiful! The thin ceramics are good to use because they are light. 
【会場place:かまぐれの丘】
渡邉廣子さん Hiroko Watanabe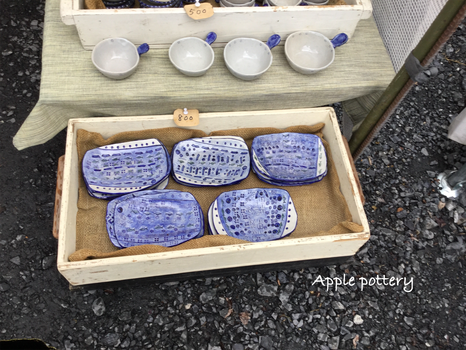 渡邉廣子さんは、染付の絵が華やか。ロックぽいテイストもある絵は、デザインがとても素敵でした!
She painted with traditional Japanese blue, her design is cool!
【会場place:場内広場】
Natsumi Oota 太田菜摘さん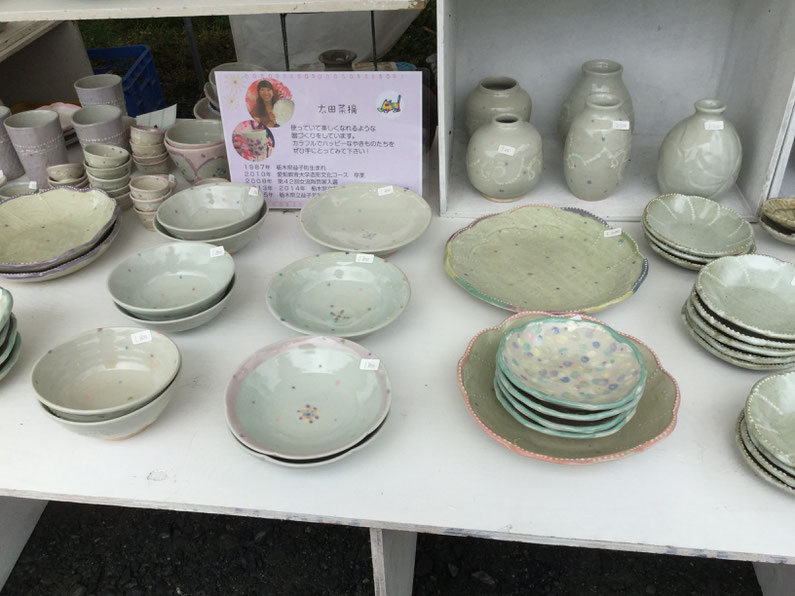 パステルの色の重なりが美しいです!愛知教育大学造形課コース卒。
【会場place:遺跡広場】
Studio  Claynote Kumiko Ishikawa
石川久美子さん
花や動植物といた日本的な柄も。陶芸用クレヨンも使って書かれるそうです。
【会場place:遺跡広場】
Utsuwayamitasu うつわやみたすさん
Made by Utsuwaya Mitasu. Utsuwaya Mitasu is a popular artist for whom numbered tickets are distributed for buying. From their blog, Utsuwaya Mitasu seems to create their vessels by sketching actual scenes and models. The unique world of their works, like a fairy tale world, is incredible. The delicate colors are beautiful!
うつわやみたすさんの作品です。整理券も配布している人気の作家さん。ブログを拝見したところ、実際の風景やモデルさんをスケッチしてイメージを膨らませて器を作っていらしゃようです。メルヘンの世界のような独特の世界感が素敵ですね。
【会場place:遺跡広場】
Toshiyuki Haramura 原村敏之さん
【会場place:遺跡広場】
Atelier Tumugi アトリエ紬
Beautiful glass-like transparency and delicate coloring!
ガラスのような透明感のある、繊細な色遣いに釘づけ!
【会場place:路地裏テント】
hinomoto kousakushitu ひのもと工作室  
The penguin bowls are adorable!
ペンギンの器が、とってもお洒落!
東峯未央さん mio shigashimine
Cute bear drawings are popular.
可愛いクマの絵が人気です。
野村亜土さん Ado nomura
The wolf's drawing, brown color and rim's decorations are beautiful !
 狼の絵や、淵の模様、土色が美しいです♪
豊田雅代さん masayo toyota
Her work is very popular.
人気の作家さんです! 
村田亜希さん aki murata
内田裕太さん Yuta Utida
The blue glaze is beautiful!
ブルーの釉薬が美しいです!
Your Email Address Will Not Be Published. Required Fields Are Marked *