Subscribe to our newsletter and receive a selection of cool articles every weeks
Warmth and In Praise of Shadows! Mashiko Powdered Clay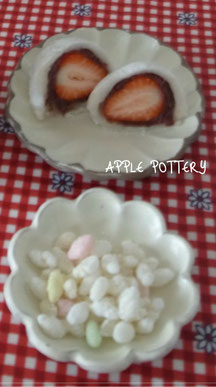 The first Mashiko pottery I saw in Tokyo was "Kobiki". "Kohiki" is a type of pottery fired by covering a base of clay with a layer of white clay called "shirokoe" (white make-up) and glaze.The indescribable gentleness of "kohiki", and the shinogi (shaving) that looks like a traditional Japanese repetitive pattern, completely attracted me to the Mashiko pottery. Looking back on it now, this fascination with "kohiki" made me decide to go to the Mashiko pottery market.
When I finally went to the Mashiko pottery market, a man at the pottery store told the other customers that "Kobiki" is a popular representative technique of Mashiko, in which shapes are made with brown clay and decorated with white decorative clay.
Hearing this, I thought "kohiki" was beautiful and bought several "kohiki" dishes! The dish in the photo is the one I purchased at that time. I was also fascinated by the traditional Japanese chrysanthemum shape.
東京でみた初めてみた益子の陶器は、粉引でした。粉引のなんとも言えない優しさと、日本の伝統的な繰り返し模様のようなしのぎ(削り)、すっかり心を惹かれました。益子の陶器市に行ってみようと思ったのも、今考えてみるとこの粉引に惹きつけられたことが大きかったように思います。
いざ益子の陶器市にいくと、陶器店のおじさまが、「茶色い土で形をつくり、白い化粧土で装飾する『粉引』は益子の人気の代表的な技法」だと他のお客様にお話ししていらしゃいました。
その話を聞き、やはり『粉引』はすばらしいと、粉引のお皿を何点か買い込みました!そのときのお皿が冒頭の写真のお皿です。日本の伝統的な菊の形にも心を奪われました。
It is warm and elegant! 
暖かみがあって、陰翳礼讃!
"Kobiki" is derived from "white as if powdered". The presence of brownish clay under the white clay gives it a warmer atmosphere than porcelain, and the chrysanthemum shapes and shinogi patterns provide the white color a shaded appearance in light and shadow, creating an accidental expression that can be enjoyed. You can also enjoy a bit of the world of Junichiro Tanizaki's "In Praise of Shadows," who loved the world of light and shadow.
『粉引』は、「粉を引いたように白い」という由来だそうです。白い化粧土の下に、茶色い土の存在が感じられるので、磁器などより温かみのある雰囲気がでやすいですし、菊型やしのぎがほどこされていると光と影で白に濃淡がでるので偶然の表情が楽しめます。光と影のある世界を好む、谷崎純一郎の陰翳礼讃の世界もすこしだけ味わえます。
The "shinogi" process of shaving the surface of ceramics creates shades of white!  陶器の表面を削る『しのぎ』で、白に陰影を!
A cup made of "kohiki" (powder-coated porcelain). The surface of the cup has been shinogi (shinogi is the process of shaving off the surface of a piece of pottery)!
Shinogi, the process of shaving the surface of ceramics, also creates shades and shadows on the white surface, giving it an expressive appearance. Shinogi is often applied to Kohiki!
『しのぎ』といって陶器の表面を削りもようをつけることでも、白に濃淡や陰影ができて表情がうまれます。粉引には『しのぎ』が施されることも多いです!
The atmosphere is soft and gentle!
 

Cosmetic clay
どこか柔らかく、優しい雰囲気! 化粧土
A white-colored clay is applied on top of brown-colored clay! 茶色い土の上に、白っぽい化粧土がほどこされているそうです!
 Porcelain and ceramics decorated with white clay, such as "Kobiki," have a different atmosphere and taste from porcelain and ceramics decorated only with glaze! We hope you will enjoy them in your daily life.
粉引など、白化粧土による装飾の陶器は、磁器や陶器でも釉薬だけの器とは違った、雰囲気や味わいがでます!ぜひ、毎日の生活に取り入れてみてください。
Your Email Address Will Not Be Published. Required Fields Are Marked *